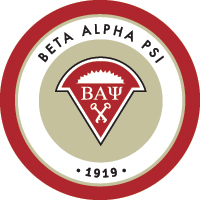 Iota Sigma Chapter
Beta Alpha Psi is a national honor society and a scholastic and professional accounting and finance fraternity. Only AACSB-accredited Colleges of Business may have a chapter.
Beta Alpha Psi recognizes outstanding academic achievements in the field of accounting and finance; promotes the study and practice of accounting and finance; provides opportunities for self-development, service, and association among members and practicing accounting and finance professionals; and encourages a sense of ethical, social, and public responsibility.
ACTIVITIES
Beta Alpha Psi supports the Operation White Socks drive by raising money through the sale of paper N's. The organization also sponsors Student/CPA Night with the Louisiana State Society of CPAs. Participants at student night get to meet employers and exchange contact information. Beta Alpha Psi members also participate in professional workshops during the semester and offer tutoring to Accounting 205 students.
MEMBERSHIP REQUIREMENTS
Students are invited to join if they have:
declared accounting or finance as their major,
completed two years of college and one upper-level accounting or finance course,
maintained a GPA of at least 3.0 in upper-level accounting or finance courses and
an overall GPA of at least 3.0 or GPA of 3.25 or better on the most recent 30 hours.
OFFICERS for 2013-2014

President-Alaina Toups
VP-Samantha Shinn
Treasurer-Rondreka Pitts
Secretary-Sonny Blanchard
Communications- Julie Jacobs
Faculty Advisors:  Dr. Xiaoyan "Tony" Chu (132 Powell) and Mrs. Stella Helluin (149 Powell)
ADDITIONAL INFORMATION
Additional information can be obtained from the faculty advisor.
Young Entrepreneur Expo
BAP member, Nikki Juneau, volunteered and dressed as a lemon for this event!
Come learn the basics of starting a business from the pros!
April  2013 • Jefferson Parish East Bank Regional Library
Hey, kids 7 to 14! Are you a budding business owner wanting to make it big in the world? Here's your chance to get some business basics from local Certified Public Accountants (CPAs) – the trusted professionals who help businesses grow – along with other business advisors from the community.