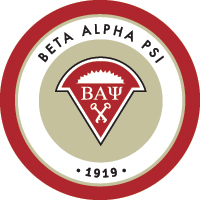 Iota Sigma Chapter
Beta Alpha Psi is a national honor society and a scholastic and professional accounting and finance fraternity. Only AACSB-accredited Colleges of Business may have a chapter.
Beta Alpha Psi recognizes outstanding academic achievements in the field of accounting and finance; promotes the study and practice of accounting and finance; provides opportunities for self-development, service, and association among members and practicing accounting and finance professionals; and encourages a sense of ethical, social, and public responsibility.
ACTIVITIES
Beta Alpha Psi – The organization also sponsors Student/CPA Night with the Louisiana State Society of CPAs. Participants at student night get to meet employers and exchange contact information. Beta Alpha Psi members also participate in professional workshops during the semester and offer tutoring to Accounting 205 students.
MEMBERSHIP REQUIREMENTS
Students are invited to join if they have:
declared accounting or finance as their major,
completed two years of college and one upper-level accounting or finance course,
maintained a GPA of at least 3.0 in upper-level accounting or finance courses and
an overall GPA of at least 3.0 or GPA of 3.25 or better on the most recent 30 hours.
Presiding:  Officers of the Chapter – Spring 2018
Taylor Boudreaux – President
Kayla Wayne – Vice-President
Veronica Fanguy – Secretary
Jonas Braud – Treasurer
Hailey Pledger  – Officer of Communication
Dustin LeRay – Vice President of Membership
Faculty Advisors:  Dr. Xiaoyan "Tony" Chu (132 Powell) and Mrs. Samantha Falgout (309A Powell)
(xiaoyan.chu@nicholls.edu    /   samantha.falgout@nicholls.edu)
Spring 2018 Meeting dates:
February 6th – 5:00 p.m. – 221 Powell Classroom
March 13th – 5:00 p.m. – 221 Powell
April 10th – 5:00 p.m. – 221 Powell
May 1st – 5:00 p.m. – 221 Powell